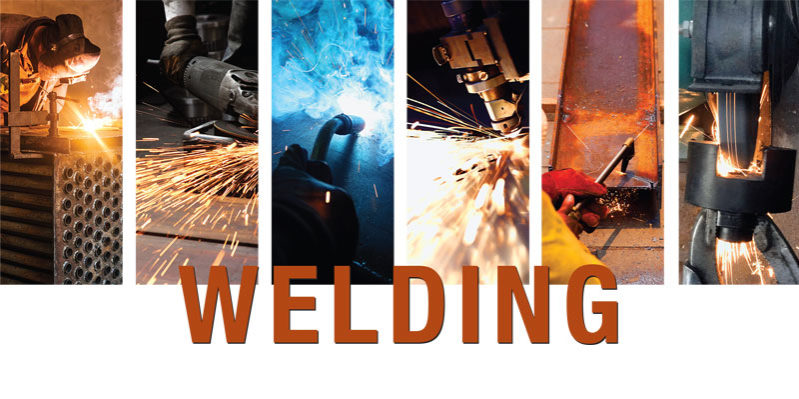 A job that offers a sizable paycheck, lots of job opportunities across many industries and the opportunity to travel the world if you wish to!
When you enroll at Northland Pioneer College to learn welding, you'll build the foundation for awesome career opportunities for yourself. Welding is one of the top NPC programs in terms of graduates gaining employment, and now is a great time to train for the welding industry. Because the supply of quality welders is not meeting the current demand, employers will come looking for skilled welders like you when you complete your training.
NPC has long been recognized as the go-to welding institution among Arizona community colleges. For many years, NPC has been setting the standard in Arizona for welding instruction. It's also the go-to college for employers, who recognize the quality of the welders trained by expert NPC faculty. Earn your associate degree here, and you can go directly to work and set yourself up for a great career and life.
The U.S. Bureau of Labor Statistics reports that in Arizona you can earn a salary in excess of $64,000 a year as a welder. Some of our welding graduates are earning even more than that! As an expertly trained welder, you'll find highly favorable employment prospects. Two out of every three jobs in the manufacturing sector are held by welders, brazers or solderers. Welding standards are universal across industries and this flexibility will pre-sent you with a wide range of job opportunities. 
Frank Pinnell, Welding Department chair and faculty at NPC, says, "What sets our program apart is that our instructors will not only teach you how to be a great welder, but they will also train you in 'soft skills,' giving you the tools you need to present yourself in a professional and articulate manner during your future job interviews and throughout your career."
In just two short years, you can earn your associate degree in Welding at NPC, and there are even opportunities for students still in high school to get an early start. Earning a degree will enable you to start your career at a higher salary, will show you're committed to your craft and will position you for future leadership opportunities.
You'll learn from an experienced faculty and study from National Center for Construction Education and Research (NCCER) textbooks, so you can gain the industry standard NCCER certification. You'll also gain American Welding Society certifications.
Pinnell says, "These credentials significantly strengthen the résumés of NPC welding graduates and give you a hiring edge over job candidates without them. You'll learn from hands-on experience in the welding lab and from NCCER textbooks, which prepare you to meet current industry standards in the workplace."
While you're learning welding skills, you'll also learn leadership skills by serving as "class foreman." You'll gain confidence and poise by making presentations to the class to prepare you for future job interviews and leadership roles. This is part of what will make you stand out from other applicants who are applying for the job you want.  
You'll also get the opportunity to put your skills to the test each year when you compete with fellow students in regional and state welding skills competitions. Employers attend the state and national competitions to scout for talent, and many of our students receive job offers to go straight to work upon graduation! Some have even been offered jobs in sought-after places like Hawaii.
All of our faculty are focused on making sure you get close, personal attention throughout your time in NPC's welding program — from long-time faculty to adjunct instructors and lab aides. Pinnell has taught at the St. Johns Center for 16 years, training numerous men and women who are now leading successful welding careers. Randy Hoskins, has been the instructor at the Show Low campus for 15 years, and Wesley King, is now in his fifth year of teaching at the Holbrook campus. Adjunct instructors Cyli Giesler, Rick Stinnett, Dale Rencher and William Tomkinson, along with lab aides, will also ensure you develop top-notch skills along the way.
NPC welding instruction is tried, tested and success-ful. Eighty-four percent of our graduates get hired for well-paying jobs! Morning and afternoon programs are available for high school students in the Northern Arizona Vocational Institute of Technology (NAVIT) program. Evening programs are available for adults.
In addition to the associate degree program, NPC also offers the Certificate of Applied Science in Welding, which requires 30 credit hours, as well as three different levels of the Certificate of Proficiency in Welding: Entry Level I (13 credit hours), Intermediate Level II (11 credit hours) and Advanced Welding Level III (21 credit hours). 
As an NPC welding student, you'll also have opportunities to contribute your skills to community service projects. Most recently, NPC welding students created bus stop shelters for the City of Show Low, built steps for the Show Low Animal Shelter, refurbished a brush truck for the Vernon Fire Department, built escape ladders to prevent birds and wildlife from drowning in stock tanks and more.
Pinnell says, "We're always looking for community service opportunities, and these were good welding projects to work on." Hoskins says, "As a community college, we like to help locally where we can. The students who volunteer for these projects get a valuable, real-world opportunity to practice fabrication, learning skills that will help them in their careers." 
And don't be surprised if one of the many successful NPC welding graduates stops by the classroom to share his or her expertise and job experience with you or serves as your guide on a field trip to a fabricating company, as Tommy Allen did last fall at Schuff Steel, in Bellemont, Ariz. (see sidebar). The NPC welding program often invites potential employers and graduates working in the field to speak to current students and takes field trips to weld-ing industry companies.
All of these plusses explain why you should enroll in NPC's welding program. You'll receive an affordable, quality education that can help you transform your life. Speak to an academic adviser about how to get started.
Employers Love NPC Welders!
Two highly respected Arizona industries know they are gaining quality employees when they hire NPC welding graduates. CAID Industries, of Tucson, and Superior Industries, of Prescott, both value and seek NPC weld-ing graduates.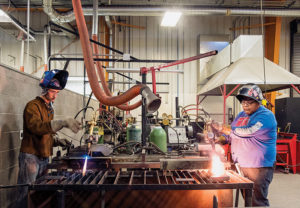 To meet the heavy demand for talented welders, CAID Industries visited the college this spring to test and interview NPC welding students. Founded in 1947, CAID was ranked as one of North America's top metal fabricators by the Fabricators & Manufacturers Association International. CAID provides precision machining services and automation equipment for customers in the mining, energy, aerospace and healthcare industries.
The Tucson-based company has previously hired four NPC graduates, and Chad Malnar, a welding engineer at CAID, says they have all been regarded as "highly skilled and productive welders."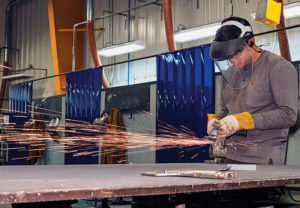 This was the first year CAID Industries conducted on-site testing at NPC, and it could potentially become an annual event. "Currently the welding industry as a whole is experiencing a lack of quality welders, and recruitment of younger, talented welders is becoming vital to sustaining our growing company," Malnar explains.
NPC has a long history of producing excellent welders, so the NPC welding program was a natural recruiting destination for CAID. Malnar says, "One reason we came up to test at NPC is because we know the college has a solid program, and because it is in a more rural area, which typically leads to a better work ethic. This is a quality which has become a difficult thing to find in younger welders," Malnar says.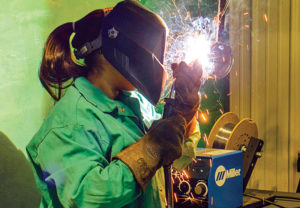 Gavin McInelly, an All-Arizona Academic Team member who earned an associate degree in welding at NPC in 2017, is one of the most recent welders to gain employment at CAID Industries. 
A second company, Superior Industries, is an industry leader in dry bulk processing and handling equipment, fuel delivery and storage equipment and precast concrete products. Elizabeth Knell, human resources director, says, "Applicants we've interviewed or hired from NPC are well-rounded students and are clearly being prepared to enter the workforce. This is evidenced by their good interview skills, well-thought-out questions and excellent résumés. Superior has benefited specifically from the welding program at NPC due to the practical welding skills that we are looking for in a quality new hire, such as print reading, knowledge of weld symbols, weld prep and MIG welding [an arc welding process used to join two base materials together]. The result has been the hiring of safety-conscious, quality-minded and production-ready workers who are prepared to work directly in our manufacturing facility."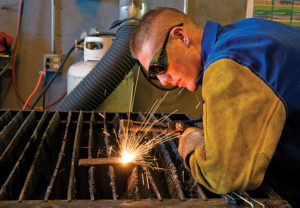 NPC alumni currently working at Superior Industries include past honor students Aaron Sherrill and Kobe Paddock.
Just Some of NPC's Star Graduates
NPC's welding program provided the perfect setting for Tommy Allen to train for his successful career. He earned an associate degree in welding in 2005, and now he's in his 12th year as the team leader at Schuff Steel, in Bellemont, Ariz. "What I love about NPC is that it's a good place to better yourself. If I didn't have that training, I really don't know where I'd be," he says. Last fall, Allen gave a company tour to 12 current NPC welding students and encouraged them to pursue excellence in college training for their future careers. He keeps in touch with NPC welding instructors and helped them incorporate a training method that makes NPC students better candidates for jobs at Schuff Steel.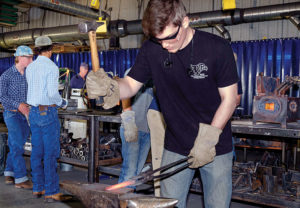 You just know someone is respected in their trade when their story is featured in a college textbook! A 2002 graduate of the NPC welding program, Val Baumann's story is prominently featured in the National Center for Construction Education and Research textbook used in NPC welding classes. As a student here, he quickly demonstrated that he had the makings of a promising career in welding. He did so well in his first semester that he began assisting his fellow students as a lab aide in the second semester. Baumann further demonstrated his considerable skills by winning the state championship in SkillsUSA welding and then by placing fifth in the national SkillsUSA competition. Professionally, he has worked as an adjunct instructor for NPC's welding pro-gram (2005-06), as a fabricator at JL Steel in Taylor and, for the past 10 years, as a welder at the Arizona Public Service Cholla Power Plant in Joseph City. He says NPC's welding program is "definitely a good program that helps people out."
Patrick Meza is the son of NPC construction faculty Jorge Meza and one of five Meza children to earn an associate degree at the college. He graduated in 2008 and now contracts as a pipeline welder with Western Industrial, working all over the Southwest U.S. He says, "NPC gave me a really good start and great welding knowledge. I love what I do, and working on pipelines is the highest level you can reach, with the highest pay and the highest level of responsibility." Meza lives in Show Low and enjoys visiting NPC's welding classroom from time to time to offer tips and inspiration to the current students. "I do it every chance I get. I like to give demonstrations at the college and help the students as much as I can. I give the students pep talks and tell them 'you can
make six figures in this business if you push yourself.'" Patrick's brother Jordan Meza also earned an associate degree in welding at NPC and is now a welding inspector in the Phoenix area. He has worked on some huge projects, including the Arizona State University football stadium and the Palo Verde Generating Station.

NPC Also Offers Metal Art!
NPC's Welding Department in Show Low offers two innovative metal art classes that include armor and weaponry fabrication and bronze casting. These classes focus on developing technical skills in black-smith forging, scrollwork, bending and forming of sheet metal. Students learn how to work with brass, copper, steel and iron to produce functional objects. Instructor Howard Noble (pictured above) has 36 years of experience in metal art, he's won numerous honors at county, state and regional competitions and also appeared last year on The History Channel's "Forged In Fire" television program. Noble also sculpted and cast the new founders' monument for the City of Show Low two years ago, and some of his NPC students had the opportunity to participate in that project to showcase the city's history.