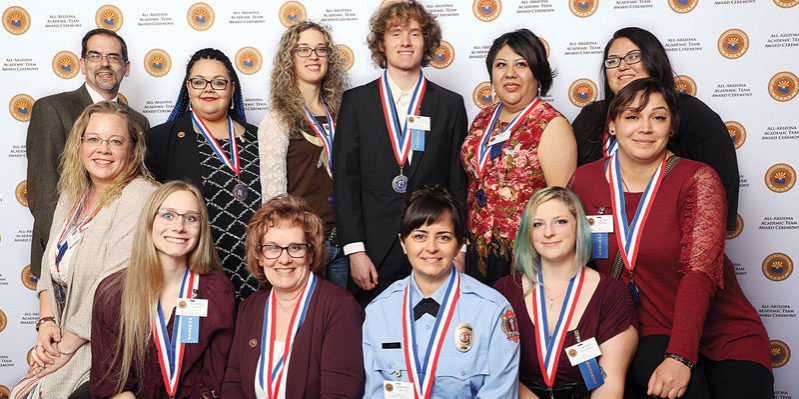 Tuition waivers, valued at over $240,000, were awarded to 12 All-Arizona Academic Team students from Northland Pioneer College to complete their bachelor's degrees at one of Arizona's three public universities. The Arizona Board of Regents awards the waivers, for up to 60 credits, to encourage the state's top scholars to finish their education.
Students who complete their first two years of a bachelor's degree at NPC have already saved more than $21,000 in just tuition alone, and this scholarship provides them with a tuition waiver (FREE tuition!) for up to 60 credits to complete their bachelor's degree at Arizona State University, Northern Arizona University or the University of Arizona. That's a smart start and finish because studies show that students who start their education at a community college and then transfer to a four-year institution often perform better than those who go directly to a four-year university. Best of all, this scholarship enables students to earn a four-year degree with little or no debt!
NPC students receiving the tuition waiver following the end of the 2018 fall semester were: Tiffani Martin and Nicole McConnell, representing the Holbrook – Painted Desert Campus; Ashley DeMaria and Larrilynn Oso, representing the Winslow – Little Colorado Campus; McKenna Sargent and Jaden Willis, representing the Show Low – White Mountain Campus; Rhonda Krouse and Austin Stanislawski, representing the Snowflake/Taylor – Silver Creek Campus; Lori Moore and Susan Thompson, representing the St. Johns Center; and Cassie Dows and Raney Pate, representing the Springeville/Eagar Center. Team members also received scholarships from NPC. Along with members from the state's other community colleges, NPC members of the 2019 All-Arizona Academic Team were honored at a Feb. 27 luncheon in Mesa.
NPC is allowed to nominate two students annually from each campus and center location to the All-Arizona team. A student must have taken a class at or originating from that location to be considered for one of the two nominations. To be eligible for nomination, a student must have a cumulative 3.5 or higher grade-point average, be working toward an associate degree and demonstrate college or community volunteerism and leadership.
Read more about this year's winners at www.npc.edu/news/20181121/12-named-2019-all-az-academic-team. For more information about NPC's five guaranteed transfer degrees, go to: