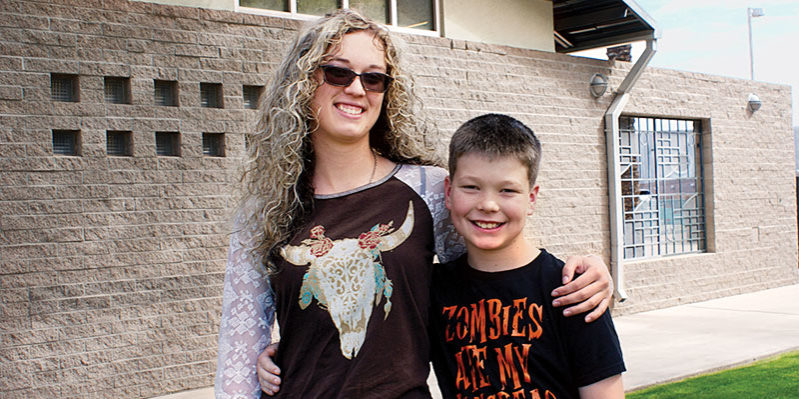 NPC spring '19 graduate Raney Pate is aiming sky-high in her career aspirations to make life better for people. She's preparing for a career in aerospace engi-neering, a field that deals with designing and build-ing machines that fly. At the same time, she is raising awareness and funds for research that could lead to treatment for people who have an incurable disease.
For the past six years, Pate has been raising money for research on a cure for Type 1 Diabetes, the disease her nine-year-old brother Lariat suffers from. The recipient of Pate's fundraising for diabetes research is Dr. Denise Faustman, director of the Immunobiology Lab at Massachusetts General Hospital in Boston. Dr. Faustman currently has a drug in FDA clinical trials that, if successful, could be used to treat the 1.25 million Americans who suffer from Type 1 Diabetes. 
Pate says, "After my brother was diagnosed with Type 1 Diabetes at age three, we soon learned that there is no cure and many children die from this condition each year. It is my prayer that someday they will be able to go to sleep at night and not wonder if they will wake up. I found out about Dr. Faustman's promising research through my family's own research. I have not met her yet, but hope to someday."
Pate, who is only 18, is very focused on her goals. While a high school student at Round Valley, she also took college classes through dual enrollment at NPC. This allowed her to earn her high school diploma at the same time she earned an associate of science degree at NPC! Pate has even been awarded an All-Arizona Academic Team scholarship at NPC, which will cover all her tuition costs when she transfers to Arizona State University (ASU) this fall to study aerospace engineering.
"NPC provided me with a great opportunity to get a head start on my college career without being over-whelmed at a huge university," Pate says. "I also saved thousands of dollars in tuition costs by earning my first two years of a bachelor's degree at NPC (which has the lowest tuition rate in the state), and now I am lucky enough to have been selected for the All-AZ scholarship, which will save me the cost of ASU tuition. I am so grateful to NPC for all the opportunities they have provided me." 
Pate's NPC English instructor Ryan Jones speaks in glowing terms of her abilities as a student: "I think Raney is not just a great student. She's the kind of person who elevates the whole class with her positive attitude and work ethic. Other students observe her effort and participation in class and seem to step up their game to match it. She is curious and always seems to want to get the most she can out of her classes, which makes her a role model."
Pate is a great example of how NPC is helping students transform their lives through education. Learn more about how you can get a head start on your college education while still in high school at: