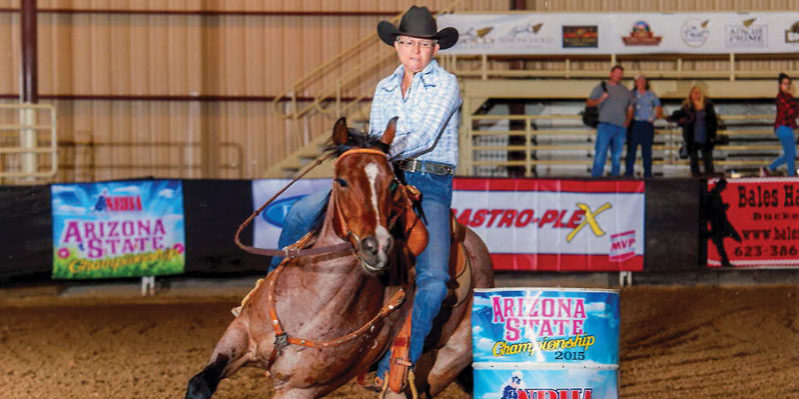 The next contestant in the barrel race positions her horse at an open gate on the far end of the rodeo arena. She pauses momentarily, focuses and then spurs her horse into a gallop. If that rider looks familiar to some NPC students, it's because her name is Gail Campbell and the day before she was directing the Education, College & Career Preparation division at NPC's Holbrook campus. She serves as associate dean of the program that helps adults prepare for college-level classes by brushing up on math and read-ing and writing skills or by earning a GED.
Campbell has been competing in equine events since the tender age of four. Her mother, Betty Campbell, is still barrel racing at age 84, and Gail plans to keep on racing as long as she can, too! An exciting sport, barrel racing is an event included in rodeos or as a stand-alone competition. Contestants ride their horses into an arena and circle three barrels placed in a triangle as fast as they can, racing against the times of their opponents. The tighter the turns around the barrels, the better the time. Campbell, a Greeley, Colo., native with a career best of 17.8 seconds, says, "Adrenaline is there when you enter the arena, and I always hope muscle memory kicks in quickly!"
Along with her husband, Steve Mills, Campbell moved to Snowflake in 2013, when both began teaching at NPC. They strategically selected Snowflake because of its proximity to barrel racing competitions. "Most weekends I can run barrels at an event that is within an hour's driving distance," Gail says.
Growing up on a Colorado cattle and horse ranch, Campbell has competed and trained horses and riders throughout her life. For the past 15 years, she has primarily focused on barrel racing. She most enjoys the competitiveness and camaraderie of the sport.
Campbell earned a bachelor's degree in animal science at Colorado State University and says horses "have, and always will be an important part of who I am. Barrel racing is mainly about horsemanship, and each horse is different, with its own individual style. What is most important in starting to work with each horse is to have them well trained before you begin to work them on barrels. This can take years! Your skill as a horseman is what makes the individual and the horse a successful team. It isn't easy, but it is rewarding."
Campbell says, "NPC is a great resource for our area and I really enjoy the opportunity to be a part of that." She credits her mother and her husband Steve, who teaches construction at NPC, for inspiring her in educa-tion. "As I was growing up, Mom was always at my school. My parents valued education, and Mom devoted her career to educating students at the state college level. My husband has shown me what it means to be an effective educator, to make the connection with students. He has helped me broaden my view of what an educator is, realizing there is more to education than just what happens in the classroom. I am very lucky to be able to do two things I love: barrel race and educate students."