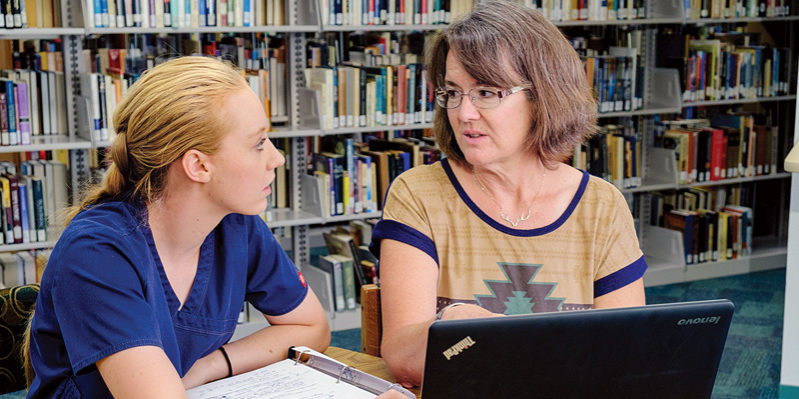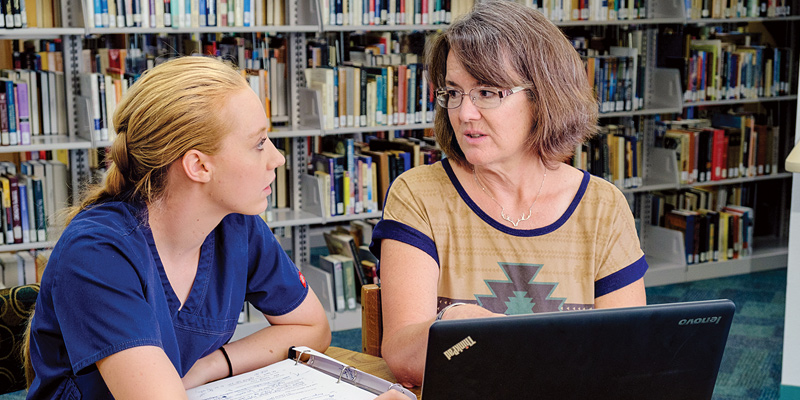 Many northeastern Arizona students face the daunting hurdle of being able to afford college. Many of those students believe that scholarships only go to a few of the very best students, and that the required essay for a scholarship applica-tion is an impossible task. But these stu-dents haven't met Betsyann Wilson, executive director of NPC Friends & Family.
NPC's student scholarship hopefuls have a great asset in Wilson, who doesn't just encourage students to apply for NPC's and many other available scholarships, but also coaches them in the preparation of their applications.
Jessica Despain and Liam Mac-Vane, both of Heber, are just two of the area's many students who benefitted from Wilson's go-the-extra-mile assistance.
Despain, a recipient of the $1,000 Summit Healthcare-Frontier Communi-cations Nursing Scholarship and a $500 Fill-the-Gaps grant, says, "Betsyann Wilson was a huge help to me with the application and essay writing process. She gave me the confidence and know-ledge I needed to write a winning essay. And the scholarships I received pay for my tuition and books and allow me to spend less time worrying about paying for school and more time with my books and family." 
MacVane has received two scholarships that make college affordable for him. In addition to paying for tuition and college textbooks, MacVane helps support his family and commutes to Show Low for his classes. "The NPC 40th Anniversary Scholarship and Leg-Up Grant are help-ing me overcome some major financial challenges," he says. "I received a major boost during the application process from Betsyann, who gave excellent guidance in writing essays."
As a former teacher, Wilson says helping students is in her blood. She takes advantage of every possible opportunity to educate students on how to apply for scholarships and write effective essays. She meets with current students on NPC campuses and, by way of distance tech-nology, transmits her message to area high school students. She is always available to edit essays and advise students on scholarship applications. Wilson does not want finances to prevent a single student from pursuing a college education.
Wilson says applying for scholarships can really pay off. She tells students, "Stay calm and give it a 100-percent effort. It's time consuming, but look at it as a part-time job. Four hours of work applying successfully for a $1,000 scholarship is $250 an hour! That's well worth your time."
Wilson encourages students to access the NPC scholarship search engine on the college website to learn about the many scholarships that can give their education a financial boost. Students should set realistic goals and apply for multiple scholarships. "I'm such a believer in the power of higher education and don't want anyone to think they can't go to college," Wilson says. "If you are persistent, you will get a scholarship award and help fund your college education."
For NPC scholarship information and application assistance, students are encouraged to contact Wilson by calling (928) 536-6245. Those interested in starting or supporting an NPC scholar-ship can find out more at:
---

NPC = VALUE!
In 2016-17, the national average for just tuition and fee charges for community colleges was $3,520.
* For NPC, the tuition and fee charges were $1,770!
50% below the national average!