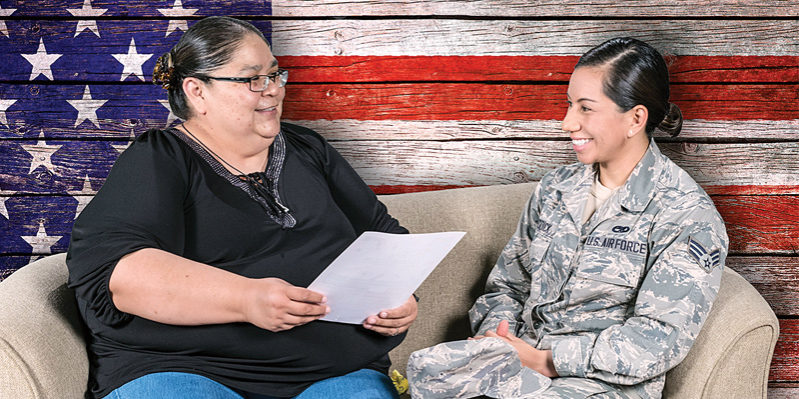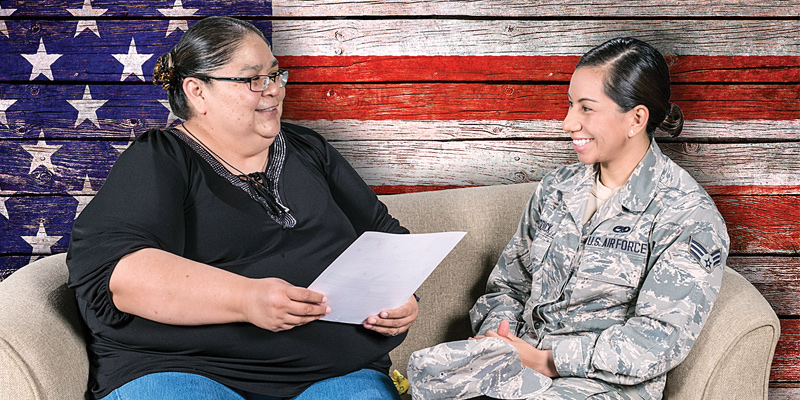 The NPC Veterans Service Office is dedicated to making sure the veterans who protect our freedom get the full range of educational benefits they need to pursue their college dreams. One such student is Malia Reddick, who is using her veterans benefits as a first-year nursing student at NPC's Winslow Campus. She's in her third year in the Air Force Reserves as an aircraft maintainer at Davis-Monthan Air Force Base, in Tucson. Reddick plans to transfer to Northern Arizona University next summer to seek a Bachelor of Science in nursing.
"My ultimate career goal is to serve my country as a nurse in the United States Air Force," Reddick says. "I have a big heart for the pediatric population, so I would like to specialize as a nurse practitioner in pediatrics and help those who are the future of our country. The veterans' program here at NPC has helped me pursue my dreams of becoming a nurse by giving me the support I need to succeed, including the faculty, academic counselors and library staff. NPC's veterans certifying official also helped me to better understand and maximize my benefits in an efficient way so I can succeed in school."
Another veteran student, Sgt. Nicole Parrack, a seven-year veteran of the Army National Guard, is working on her second associate degree at NPC. She's serving her country and making the most of her GI benefits and federal tuition assistance to further her education. 
"My benefits pay for all of my college education," says Parrack, an NPC para-medicine student and a firefighter/EMT at Timber Mesa Fire & Medical District. Several years ago, she earned an associate degree in general studies at NPC and a bachelor's degree in emergency management at Grand Canyon University. "Don't
be afraid of going through the applica-tion process. It's definitely worth it," Parrack says.
These outstanding students are among a record 83 veterans who enrolled at NPC in the fall '17 semester. The college also welcomed a new veterans' educational benefits certifying official and registration clerk, Delceta Morgan, to assist them. She is the daughter of a veteran.
"My responsibility is to certify VA stu-dents with educational benefits through the GI bill so they can receive their funding for tuition and fees," Morgan explains. "There are a lot of regulations involved in certifying veterans, and it's very rewarding to provide them the help they need in navigating the procedures involved."
The most common needs of veteran students are knowing where to reach out to receive benefits, counseling, tutoring and staying on track with their educational goals. NPC offers veteran students priority class registration before the start of general registration and a student orien-tation built specifically for them.
"My goal is to certify NPC veteran students early and get them on the right track so there will be no holdup," Morgan says. "It's so important they do not register late because it can delay their stipends and ability to buy textbooks. I help them be proactive by making them aware of what services and benefits they are eligible for, so they can access the full range of benefits available to them."
Because many veterans have been wounded in military action, Morgan also informs them about NPC's disability services. Veteran students are also encour-aged to explore tutoring and scholarship opportunities at NPC. 
Last year, NPC opened a new veterans' center on the Show Low campus, where many veterans attend classes. The center provides a gathering place for veteran students to connect, socialize and study. Comfortable furnishings, computer/printer/scanner stations and a phone are all available for veteran students to use in support of their college education. 
For more information about educa-tional benefits, veterans should go to: