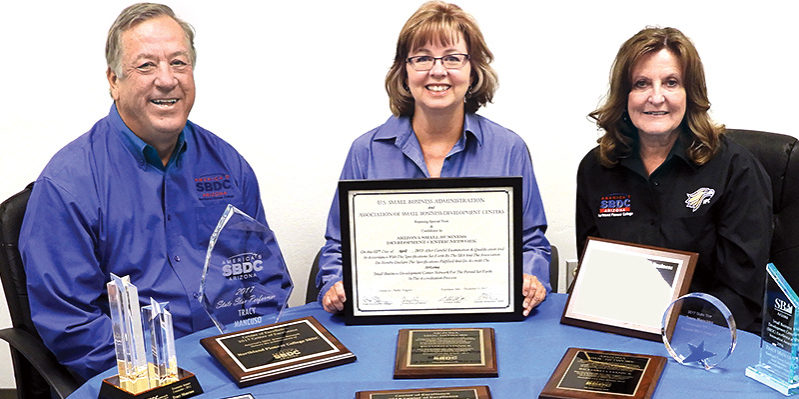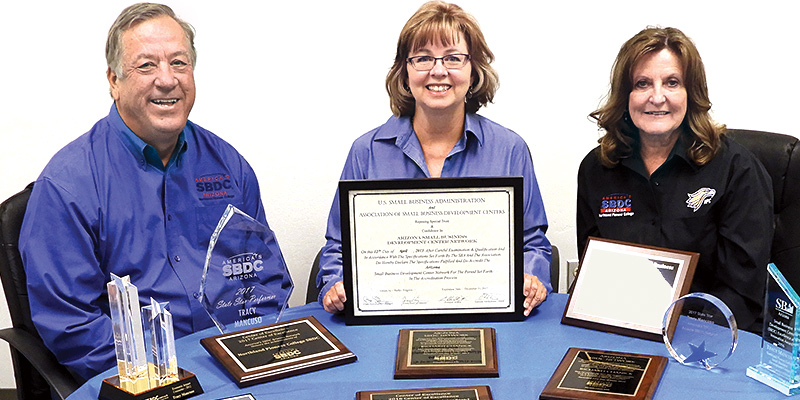 Entrepreneurship can be a rewarding career path, and owning a business is the dream of many Americans. Starting with the sound advice of the know-ledgeable consultants at the NPC Small Business Development Center (SBDC) greatly improves your chances of success and prosperity. SBDC mentors are highly adept at helping you start, grow and sustain a small business.
For example, the SBDC helped Winslow's ASTA Roofing and Construction, LLC turn a $30,000 investment into a company that is now billing $4.5 million a year by guiding it through the maze of government contracting. Tim and Tanya Young, the owners of ASTA, say, "NPC's SBDC has been a great and valuable resource to us in growing our company." The SBDC has helped countless people who had an idea take it all the way to opening their own business, and they can help you.
Tracy Mancuso, the award-winning director of NPC's SBDC, says, "We provide professional, one-to-one business management coaching and mentoring, educational programs and resource centers aimed at serving the diverse needs of entrepreneurs." In the past year, the center has developed a well-received series of workshops for women entrepreneurs and plans to expand services for the blossoming segment of millennial entrepreneurs. The SBDC is constantly expanding its resources to meet the needs of businesses in this region.
Depending on your goals, Mancuso assigns new clients to either herself or her team member Rich Chanick, a former business owner in Phoenix, or Merlene Foshee, a local entrepreneur of many years. Among the three staff members of the center, there is a broad range of experience and expertise in business, and in certain cases clients may work with one, two or even all three mentors. The SBDC can help clients in areas as diverse as financing (bank and individual investors), patents, government contracting or even start-up items like licensing, LLC formation, taxes and marketing. If you have a business need, the SBDC has a resource just for you. Best of all, its services are free!
The outstanding team of SBDC advisers has won numerous state awards for the excellent services they provide, among them the 2016 Center of Excellence and Innovation award from Arizona's Small Business Administration. For her center's impact on the northeastern Arizona economy, Mancuso has won SBA Center of Innovation Star Awards in both 2015 and 2017.
Harry and Alissa Hollenbaugh worked with NPC's SBDC to take their Snowflake business, MTN Clean, from concept to reality. The center helped them establish an LLC, develop a marketing plan and hire staff. Featured in Maverick magazine, the owners say, "They (SBDC) have been great in providing the kind of mentoring we were looking for. We have received some really good advice and we are still working with them today. We would definitely recommend the SBDC to other small business owners."
A long-time client of the SBDC is Linda Bohn, owner of Ballet White Mountains & Dance Center. She receives help with the marketing of her business and a yearly check-up from the SBDC on all aspects of her business. "I'm sure I wouldn't be where I am now without their help and direction," Bohn tells the Maverick.
Esmeralda's Bella Vida Salon & Spa was an established business that needed help with its online presence. The SBDC helped place the company on Google Maps and create a social media presence on Facebook. Owner Esmeralda Aguilar says, "The SBDC is a great resource and I am so happy to have them here."
Mancuso says, "Small businesses are so vital to northeastern Arizona's economic growth and vitality. Our goal is getting businesses the information and tools needed to be successful no matter what stage your business is at. Our reward is the invitation to your Grand Opening after we have helped you get to where you want to be."