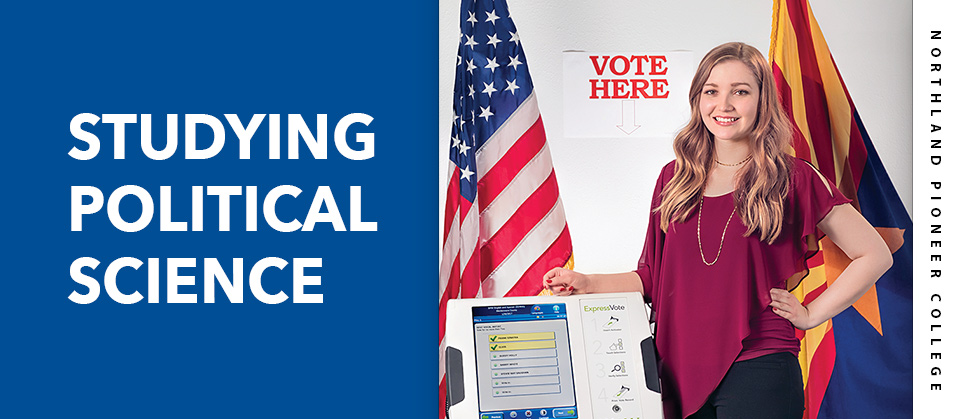 Leaving no stone unturned, Lauren Burson (pictured above) is pouring the absolute max into her college education as she prepares for a career in politics and government. As a political science  intern, Burson's efforts helped a candidate get elected to the U.S. House of Representatives.
"I thrive when under pressure," Burson says. "If I am going to do something, I am going to do it well." And she does. This year she won an NPC All Arizona Academic Team scholarship that covers all of her tuition costs at Northern Arizona University (NAU). Currently attending NAU, she is pursuing a bachelor's degree in public administration with a minor in homeland security.   
Burson got her start at NPC as a cosmetology student while she was still in high school, obtaining her license to practice in 2013, which allowed her to work full time and earn money for college. Just before graduating with two degrees from NPC in December 2016, Burson got an exciting opportunity to intern in a local political party's office in Pinetop.
In the fall run-up to the 2016 election, Burson worked long hours as an intern to help a local politician win election to Congress. "During my internship, I relied heavily on the things that I learned at NPC," Burson says. "I utilized the communication skills I learned from my public speaking class. I was able to apply what I learned in my political science and philosophy classes. But most importantly, I learned how to think at NPC, not what to think. My professors gave me the tools and the confidence to further my goal of helping people by pursuing a career in politics and government."
Kayleigh Malone, a political party field organizer, was highly impressed with Burson's commitment to her internship. "Her hard work showed many community members that young people do care about the future of our community. She showed a dedication and perseverance that few people are willing to."
"My internship taught me how campaigns work and how important it is to be able to adapt to ever-changing circumstances. Despite the changes, you have to keep working toward your goal," Burson explains.
She says she owes much of her current success to NPC and adds, "It's very affordable, and to me, it made perfect sense to live at home and attend college, allowing me to save money and work at the same time. NPC definitely gave me the tools and the confidence to succeed at NAU. All of my NPC instructors were incredibly knowledgeable and had a talent for teaching. I got the same quality of education at NPC that I am currently getting at NAU."
After completing her bachelor's degree at NAU, Burson will either seek a master's degree in political science or attend law school. "I hope to get involved with the federal government and the legislative process," she says. "Once I have a fundamental understanding of what goes into policy implementation, I would like to run for office and help create those policies."
NPC currently offers five courses in Political Science, including American Government, Navajo Government, U.S. Constitution, Arizona Constitution and Government, and an internship. If you're interested in studying politics and government, contact an NPC academic adviser to get started.
– By Dennis Durband