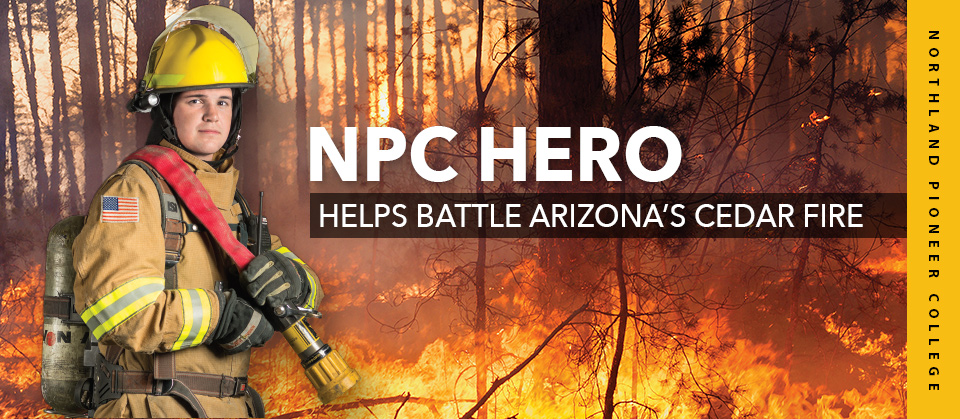 by Everett Robinson
NPC fire science alum Clay Wallace helped save lives and property this summer when he was called upon to help battle the Cedar Fire. The wildfire burned 45,977 acres from June 15 to July 2, just 10 miles south of the Show Low and Pinetop/Lakeside area.
Tears begin to flow from smoke-irritated eyes, gently washing away the soot and sweat from a 12-hour shift on the fireline of the Cedar Fire, as the three-person crew makes its way along crowd-lined city streets to the bustling fire camp, the temporary home for more than 900 firefighters. Handwritten posterboard signs proclaim "Thank You Firefighters!" in every marker color imaginable. Kids jump up and down, waving American flags. The applause and cheers are like rolling thunder.
"It is an awesome feeling to see and feel the support of the community, whether we're returning from a wildland fire, or just doing our jobs of protecting the lives and property of our fellow citizens," remarks Clay Wallace, a graduate of the NPC Fire Science program and now a full-time captain with the Vernon Fire District. He also serves as a reserve firefighter with several other area departments and was one of the early responders to the Cedar Fire this past summer.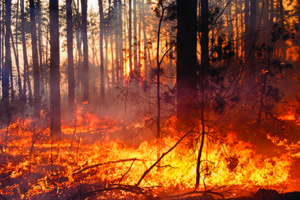 During a rare afternoon at his Lakeside home on Wednesday, June 15, Wallace noticed smoke starting to rise from the vicinity of Cedar Creek just after noon. Around 6 p.m., he received the call he was anticipating to respond as part of a three-person Type 6 brush truck crew initially assigned to keep the fire from jumping U.S. 60 and making a run toward Linden and Show Low. He would be on the fireline for the next 11 days, "shoveling a lot of dirt."
To preserve their limited water supply, wildland fire-fighters use a Pulaski, a combination axe and shovel, to remove vegetation and cut a line of bare earth ahead of the advancing flames. "It is a lot of hard, dirty work," Wallace says. "The reward comes when the fire lays down as it hits the line you created, stopping its advance."
Fortunately, Operator Wallace, Engine Boss Duane Noffz and firefighter Timothy Entrekin, also a graduate of the NPC Fire Science program, managed to hold the fire from jumping the highway along the nearly six-mile southwestern flank.
When incident commanders were satisfied the black line along the highway was holding, Wallace's truck was reassigned to another point of the fire's attack. "We were on south structure protection in and around the Cedar Creek community when the winds suddenly shifted and the fire started advancing rapidly toward us. That was scary, but we managed to cut and hold a line to protect the community," calmly adds Wallace. The intense heat and roar of a wildland fire are almost impossible to describe.
When the line above Cedar Creek held, Wallace's crew was moved to the southeast flank, supporting two hot shot crews. "The fire was really making a push along that front. We were supporting the hot shots who were creating lines and making initial attacks on the spot fires that had jumped their lines." Normally a crew is assigned to one specific area. "It was cool being moved around and to see and experience various aspects of the firefight," adds Wallace. The Cedar Fire would char thousands of acres before monsoonal rains helped suppress the blaze.
The Cedar Fire was not Wallace's first major wildland fire. He was tested his second full-time day with the Vernon Fire District (VFD), when the human-caused San Juan Fire broke out in June 2014 southeast of the Apache County community, eventually charring just under 7,000 acres.
"We like what we do," he continues. "It is not for the glory. It is what we train for —  to protect lives and property." He praises his NPC Fire Academy instructors for giving him a jump-start into his fire service career. At 21, he has attained the rank of captain, while still studying to complete his Associate of Applied Science degree at NPC. "The NPC Fire Science instructors are some of the best in the state and those who complete the NPC Fire Academy reflect that quality training," states Wallace.
"We are very happy to have Clay working at the Vernon Fire District," says Chief Dave Niehuis. "He was prepared and educated from the outset and was able to come in and contribute to our operation immediately after being hired."
Niehuis continues, "I have had the opportunity to not only employ firefighters who attended the NPC program, but also met several others who graduated from the pro-gram and I have been very impressed with these people. Clay, specifically, reflects the high level of training NPC offers. He has proven his skills over and over on emergency scenes and has also shown an overall knowledge of fire service culture and function. He has risen quickly through the ranks at VFD. He came to us with a good education, complimented with real experience. This, along with his unwavering desire to continue to educate himself, is what propelled Clay to the level he is at today."
"I grew up knowing I wanted to be a firefighter," relates Wallace, a second-generation firefighter, and a resident of the White Mountains since he was two. "I would go to the station with my dad [Richard Wallace, assistant chief at Pinetop Fire Department], wear his gear, climb all over the trucks and ride in parades." His two brothers have also gone through the NPC Fire Academy. The oldest, Cody, is now working on prerequisites to become a nursing student at NPC. The other brother, Cole, is a wildland firefighter, helping battle blazes in California and Arizona.
Clay started preparing for his fire service career while in high school, attending Northland Pioneer College's Fire Training Academy as a Northern Arizona Vocational Institute of Technology (NAVIT) student. He graduated from the Academy in 2011 and has completed additional training through NPC to become an Emergency Medical Technician.
"Vernon is an awesome place to work, with a very healthy department. I'm working with some wonderful people. They gave me my first shot and the opportunity to give back to my communities," says Wallace. The Vernon Fire District serves nearly 7,500 residents scattered over 156 square miles. Almost 85 percent of their calls are for emergency medical services. That's why Wallace wants to earn his paramedic certification through NPC. "I like the dynamics of working at the fire district. People call us for help with little things, like getting into a locked car or house. Or they or a loved one fell out of bed and need help getting back up." Crews also respond to a lot of serious injury vehicle accidents.
"We enjoy the [elk] meat, but wish folks didn't have to suffer from the results of hitting an elk, or swerving to avoid one," remarks fellow Vernon firefighter Richard Pettit. "We run emergency calls that are just as big as in the cities, with less people," adds Chief Niehuis.
"Clay has a real drive to be the best he can be. You hear this said quite often, but don't always see it in young people. But Clay Wallace is for real," concludes Chief Niehuis.