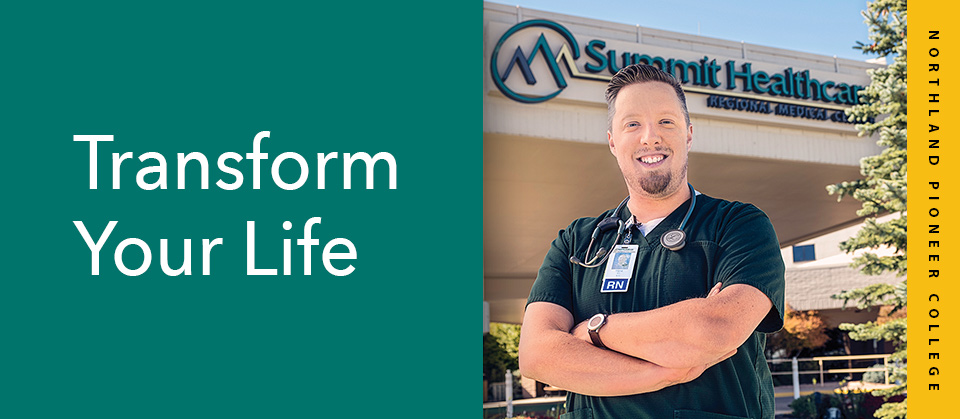 By Dennis Durband
You have a job, but it's not really what you want to do. Your family is depending on you for support, and you worry that you may not have any other good options. One area resident who faced that challenge found out that simply wasn't true.
He's Steven Busch, whose NPC training literally helped him reach the summit of his career aspirations. He's now a registered nurse in the ICU unit at Summit Health Care Regional Medical Center in Show Low. Busch says: "If you aren't happy with your circumstances, change them! NPC gives you the key to unlock your future; you simply have to take it and put it in the lock. There is no such thing as being stuck in life. Give NPC a chance and strive to change. You can do it."
As Busch was nearing the completion of his associate's degree at NPC in the spring of 2015, a nursing instructor informed his class about an opening in Summit's Intensive Care Unit (ICU). He applied, and NPC nursing instructors wrote letters of recommendation for him. Two months after graduation, Busch reeled in his dream job, a registered nurse in the ICU! And it can happen for you. Many NPC graduates find great jobs in their field because employers look for highly trained, well-educated workers.
Busch is one of the many non-traditional students who go back to school at NPC for excellent career training and then build secure new futures for themselves and their families. He previously excelled in banking, but it just wasn't the future he wanted.
"I had always wanted to be a nurse," says Busch, now 33 and the father of four young children. "But life happens, and I wasn't a nurse. I was good at what I was doing, but didn't love what I was doing." A friend encouraged him to look into NPC.
Busch met with an NPC academic advisor, who assured him he could expect solid career training close to home, at a highly competitive tuition rate. "NPC is close and it's affordable," Busch says. "By studying at NPC, I didn't have to go into debt to start my new career. I saved a lot of money and got a great, quality education from out-standing faculty. I am living my dream and supporting my family. An NPC education is well worth it, and I highly recommend it."
Busch says his instructors in NPC nursing were "phenomenal" and credits them with providing great career training that he applies in the ICU every day. "We learned a broad spectrum of things within nursing, including lots of things to round us out." But that is not just true in the Nursing Department. NPC faculty across all disciplines work to ensure that students receive not only their core training but also the skills that will make them employable, such as interview and presentation skills.
A big part of nursing school at NPC is the state board exam. Busch says, "A lot of the program focused on passing the state exams and on critical thinking. The faculty give you the tools to think things through so you can come up with solid solutions to health issues." Many of the programs NPC offers have state and national exams that certify students to have the skills and knowledge that employers need. NPC faculty work hard to ensure that students are well prepared to take and pass these exams.
Now Busch performs a myriad of activities for his patients each day, working closely with doctors and nurses, working to preserve lives. "It's a little intense sometimes," he says, "but I love the brain work involved. NPC definitely taught me how to look at the big picture and come up with many alternatives to help patients whose lives are on the line." At NPC, the classes are small, so you'll have a personal relationship with your instructors. They'll be there to answer questions and help you learn.
Busch has now begun work on his bachelor's degree in nursing. He has a solid educational foundation and knows he has the skills to take online courses through Brigham Young University-Idaho. He is proof that hard work in the classroom at NPC pays off and leads to rewarding employment. It's where he started to transform his life, expand his mind and prepare for career success. You can do it, too. Enrolling at NPC can give you the educational foundation needed for a rewarding and secure future.