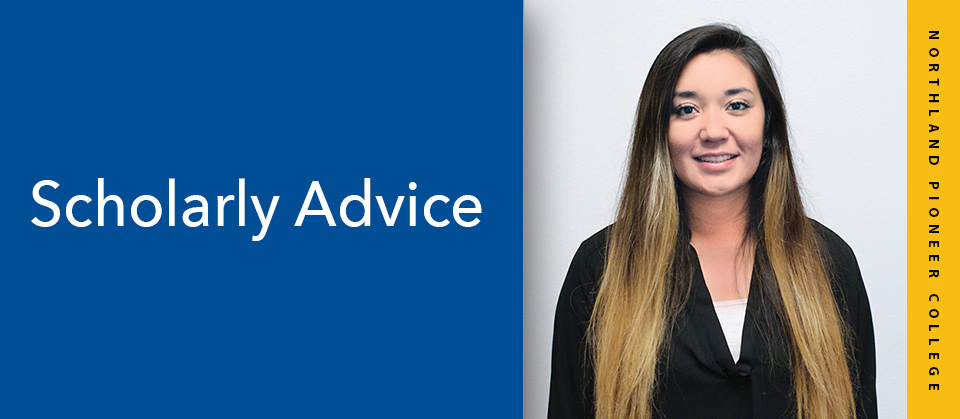 By Dennis Durband
NPC student Esmeralda "Ezzie" Lujan once rationalized that apply-ing for a scholarship "will take so much time that I don't have and they request so much information."
Three scholarships later, Lujan says she changed her mind because of the encouragement she received from Betsyann Wilson, executive director of NPC Friends and Family. "Betsyann told us, 'It's going to take some time, but if you succeed, then you just gained hundreds of dollars to apply to your education costs.'"
Lujan, an NPC President's Scholar and Honors Program student, received the $1,000 Summit Healthcare Foundation-Frontier Communications Nursing Scholarship twice! She also received the NPC Friends and Family 40th Anniversary Scholarship. These scholar-ships have given her a major boost in affording her education and preparing for her career. Scholarships have also done the same for many other students at NPC.
A 2012 Snowflake High School graduate, Lujan took nursing courses during her last two years of high school. Then she worked in the Newborn Hearing Screening Unit at Summit Healthcare Regional Medical Center in Show Low for a year-and-a-half. That work inspired her to go back to school and earn her nursing degree.
Lujan is excited for her spring semester capstone requirement, where she will select a specific department at the Summit hospital and shadow a nurse for three weeks. "When this person is at work, I'll be at work. It will be another crucial link in my training to be a nurse, and NPC scholarships helped me get there," Lujan explains.
Lujan already has experience shadowing people. As a child, she followed family members around and put Band-aids on them. "I loved the thought of helping people – whether they needed it or not!" she recalls. Going forward though, everyone she tends to will definitely need her medical attention.
Wilson, the administrator of Friends and Family scholarship applications at NPC, says, "Ezzie's integrity and willingness to work hard to achieve her goals serve her well as a student, but perhaps more important, they are traits that will serve her future patients in a profession where service to others is paramount."
When Wilson started administrating her scholarship applications at NPC, she was astonished that so few students were applying. She says, "They had a hard time recognizing and writing about their own strengths and achievements and so they didn't apply."
But Wilson took immediate steps to boost scholar-ship applications. She now teaches students how to apply for scholarships and offers to help edit their essays. Applications are on the increase and more students are better able to afford college through NPC scholarships.
As for Lujan, she is on track to earn her associate's degree next May. She then plans on transferring to a four-year school to earn a bachelor's degree.
Lujan says NPC is an ideal college to study at because the teacher-to-student ratio is great. "The instructors are awesome," she adds, and so are the scholarships. "It's definitely worth the time it takes to apply. I'm so happy I did because it really helped me out. My advice for others is to just try applying because you have a good chance of getting rewarded for your efforts. And Betsyann is ready and willing to help if you're not sure where to start."
NPC has an ever growing list of scholarships that are made possible through the generosity of donors. Students and prospective students can learn more about NPC scholarships by contacting Wilson at (928) 536-6245 or using our scholarship search at www.npc.edu/scholarships.