It's more than turning a wrench.
Safety, honesty, respect and integrity are vital components of the Automotive Technology program at Northland Pioneer College. When combined with the skills learned on computerized trainers and hands-on shop experience, the result is ASE-certified students and graduates that local employers are eager to hire.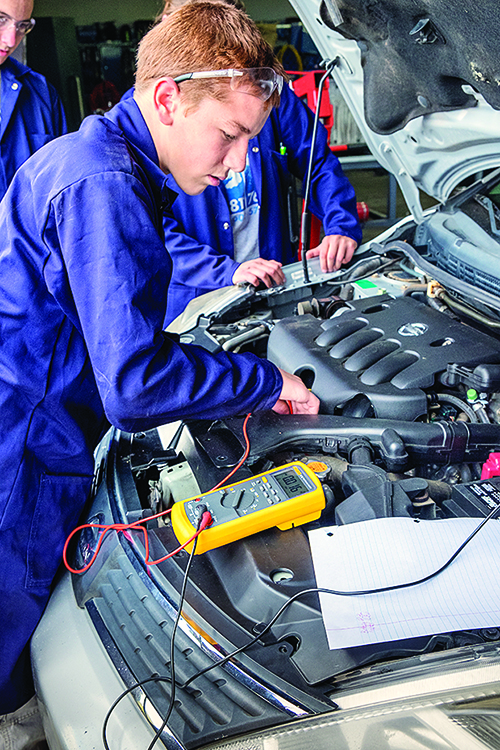 "Our industry partners are hiring our students because they have proven to be safe, knowledgeable and honest, admitting when they made a mistake or are unsure how to correct a problem," explained Sammy Harris, lead instructor for the program. Williams Brothers Automotive, Snowflake Automotive and Carquest are a few of the local firms employing NPC program students.
"I expect honesty from my students and give the same in return," Harris continued. "If students come into the program with an interest in the field, but maybe lack the manual dexterity required, I'll guide them into other options within the field. It helps to have a knowledgeable person at the parts counter as well as on the shop floor."
According to the U.S. Bureau of Labor Statistics, the number of automotive service technicians and mechanics is expected to grow approximately 9 percent by 2022.  The average mean salary for non-dealer service technicians in nonmetropolitan northern Arizona was $42,320, almost 16 percent above the national average.
A high-tech career that is always in demand and can't be outsourced overseas.
Both the National Automotive Technicians Education Foundation (www.natef.org) and the National Institute for Automotive Service Excellence (www.ase.com) have certified the NPC program as meeting or exceeding national standards.
"The bottom line is we are training these students for a career, not a job. It is not just turning wrenches. I push my students to complete their Associate of Applied Science degree, opening up future management positions," said Harris.
NPC, in partnership with the Northern Arizona Vocational Institute of Technology (NAVIT), offers ASE-certified training in shop and personal safety; Engine Repair; Engine Performance; Brake and Transmission Systems; Drive Train, Suspension and Steering Systems; and Electrical and Electronics Systems. Classes are open to adult students during both the day and evening.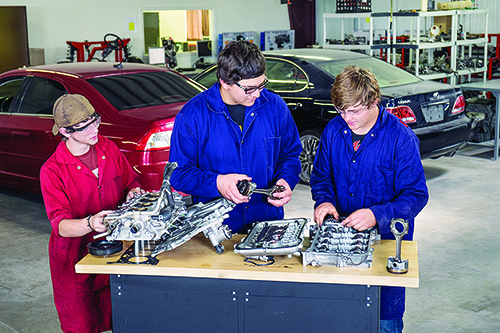 After completing each of the areas of specialization, students complete an ASE Student Certification exam. "That certificate is good for two years and allows them to get hired and learn on the job, then re-test for professional-level certification," explained Harris. "By the end of the second year in the NPC program, students have obtained all nine certificates, qualifying them for positions in parts stores and repair shops."
During the spring 2016 semester, students will be concentrating on engine repair and performance, manual transmissions and air conditioning. "The program is designed to allow students to start at the beginning of any semester. My only requirement is that they complete or co-enroll in the shop and personal safety class before going on the floor for hands-on training," stressed Harris.
A Career and Technical Education Innovative Grant, funded by the Arizona Department of Education (ADE), was used to purchase specialized kits to work on the three major auto diesel engines: DuraMax, Powerstroke and Cummins. Harris is in the process of rewriting the program's curriculum to create conventional, diesel or alternative fuel specializations but full implementation is still a few years off.
Northland Pioneer College's automotive training facility is located in the Show Low Industrial Park at 1400 N. Lumberman's Loop.
– Everett Robinson

A Career Path with Lots of Options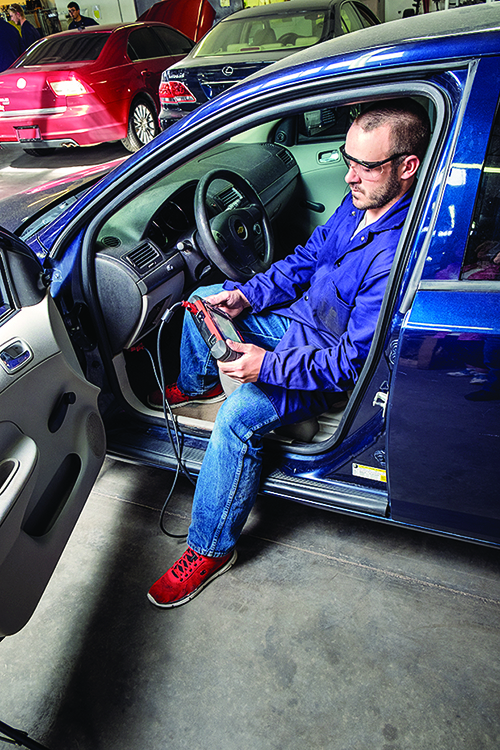 Starting with an associate degree from NPC and then continuing your education throughout your career, you can find many types of employment:
line technician
vehicle inspection, maintenance, repair, and performance upgrades
collision repair, painting and damage estimating
high-performance machining and rebuilding
computer diagnostics
engine performance and driveability solutions
motorsports
service consultant or service director
store management or ownership
parts sales, distribution or wholesaling
management at the corporate level for national franchises
vehicle manufacturing and private and municipal fleets
instruction at high schools and community colleges
auto sales and marketing