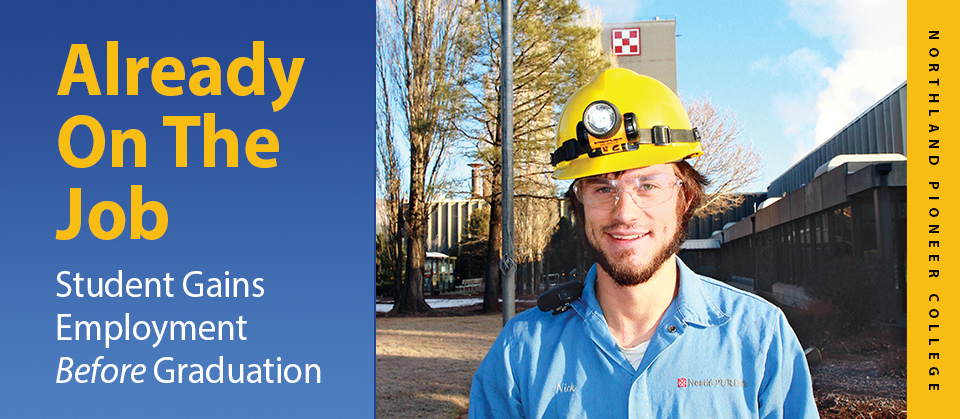 Getting your foot in the door in your chosen career path can be tough. You have to find a way to get noticed, to separate yourself from all the other applicants. Northland Pioneer College helped Nick Chase do just that through career coaching and a college job fair. Now, Chase is enjoying the benefits of working in the same field he's currently studying at NPC.
The opportunity came as Chase was beginning his second semester, halfway through NPC's Industrial Maintenance and Operations (IMO) program. The process of going from student to employee first started with Nestlé Purina participating in a job fair hosted by NPC. To follow up, Kenny Keith, NPC's IMO program coordinator, along with other instructors, took students, including Chase, on a tour of the Nestlé Purina plant in Flagstaff.
Chase then received coaching on interview techniques from John Spadaccini, an on-campus NPC career coach. "Without John and NPC, I don't think I would have gotten the job, or even known about it in the first place," says Chase.
Chase was hired as a Maintenance Technician in the facilities department at Purina. "The job is great," he says, "I'm learning something new every day and I'm really enjoying working there. I owe a lot to NPC for helping me get this job at Purina."
While working full time and studying to complete an NPC degree program provide some challenges, Chase has been able to benefit from NPC classes, such as IMO 212 (a power plant operator course Chase was enrolled in this spring semester), that directly relate to what he is doing at work. "The class I'm taking now is great because it's more in-depth on what I'm working on at my job," says Chase. "Alignments and bearing installations are things I work with every day at Purina."
An additional benefit to taking classes at NPC while working is the willingness of faculty to share advice and knowledge from their own experiences in similar fields of work, explained Chase. "It just really helps to have someone outside of work there to ask questions," says Chase. "You just feel so much support from the instructors. I even have one instructor who says he's willing to add more to his class curriculum based on the questions or situations I have at work."
Chase is set to graduate from NPC at the end of the Fall '15 semester with an Associate of Applied Science degree in IMO and plans to continue working at Nestlé Purina throughout. He's proud of working hard to earn his college degree and looking forward to future job opportunities. Chase encourages others to attend NPC and earn their degree because his success is proof that education can greatly improve your career and employment opportunities.