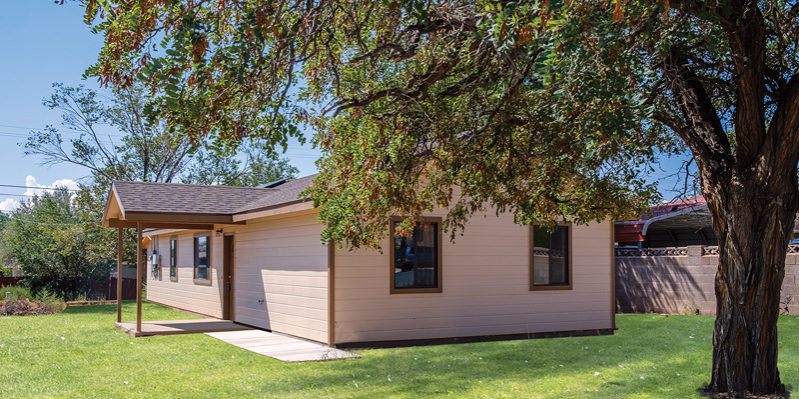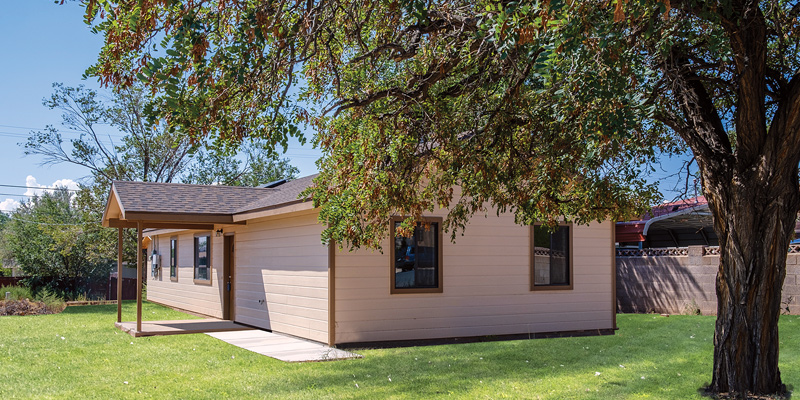 In what has been called a "life-changing classroom," Construction Technology and GED® students at NPC recently completed construction of a new ranch-style home in a residential neighborhood in Holbrook, Arizona.
Building the home (pictured above) from the ground up, the students were participants in the IBEST program (Integrated Basic Education Skills Training). They're building homes, careers and transforming their lives.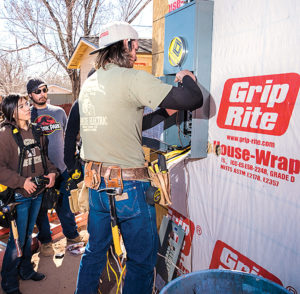 IBEST is funded in part by a grant from the Arizona Department of Education. The program's curriculum integrates classroom education and GED® (General Edu-cation Diploma) preparation with construction training to prepare students from disadvantaged backgrounds for careers in the construction field where they can earn well above minimum wage.
Since 2015 and under the direction of instructor and licensed contractor Jorge Meza, IBEST program students have built a raised-bed garden, the home in Holbrook and tiny houses!
The IBEST home project is a huge win-win for everyone involved. The city of Holbrook gains tax revenue and another place for a family to live. The college provided the land, and NPC students obtained real-world experience and were fast-tracked to a new and life-long employable career. NPC employed local licensed tradesmen to help keep construction moving and to help train students in their craft. The house is small, 1,200 square feet, so it is affordable to a greater num-ber of potential buyers. It even has solar panels on the roof, which not only lowers the homeowner's energy bill but also pays the owner for any extra energy put back into the power grid!
"This home demonstrates how NPC is serving the community," Meza says. "The students get their GEDs® and learn real hands-on job training skills that they are now using to better their lives."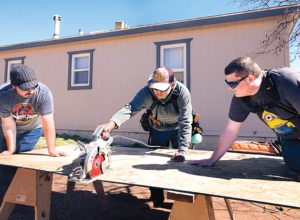 Former IBEST program students who are still studying at NPC talk enthusias-tically about the program. Latrice Sargent says, "The program has made me look more at my long-term goals. I learned a lot of very useful skills by actually being on a construction site and really benefitted from the experience." Frustino Martinez says, "I see a better future for myself after being a part of this program." Victor Cruz adds: "I gained a whole lot of great experience in build-ing and also have more knowledge about drafting."
Some former IBEST students are now even working in the construction industry. Meza says the three-bedroom home built by the students provided them the opportunity "to learn the entire range of what goes into building a home, from the foundation to the framing to the roof and everything in between. They learned plumbing, electrical wiring, drywall, flooring, installing kitchen cabinets and many more employable skills. By project's end, the students had helped create an attractive and comfortable home in Holbrook for the owners, who now occupy the residence."
The finished product also speaks vol-umes for the quality of the Construction Technology program at NPC and the teaching and leadership of the faculty.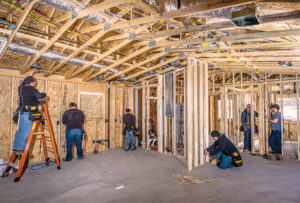 Gail Campbell, Associate Dean of Education and College & Career Prepar-ation and director of the IBEST program at NPC, says "The current need for student housing at NATC (Northeast Arizona Training Center) has created another opportunity for NPC's IBEST program to teach basic academic skills through hands-on construction training. Students benefit greatly from this more engaging way of learning."
Steve Mills, one of the classroom instructors, remarks: "IBEST puts edu-cation within the reach of every student by allowing them to experience the material, rather than just studying the concepts and ideas in a book."
NPC will accept new IBEST students for the fall 2018 semester. Anyone interested in applying should contact Campbell at (928) 289-6535 or (928) 524-7343.