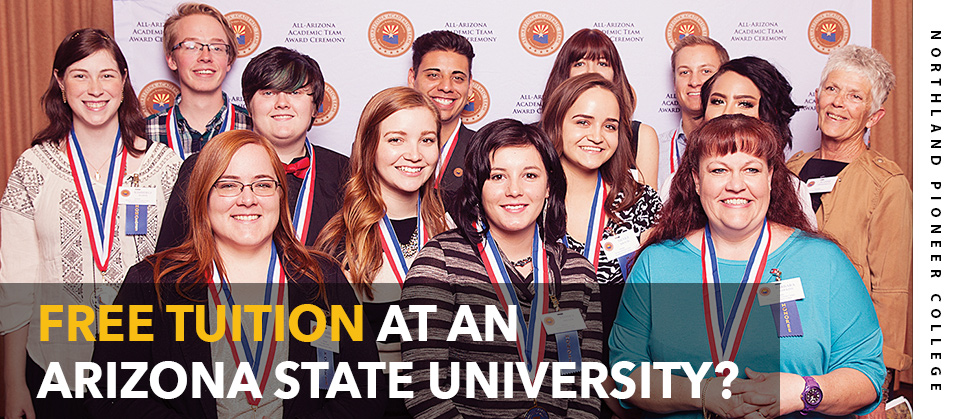 Every year, for the past 21 years, the Arizona Board of Regents award a little-known scholarship only to community college students selected as members of the All-Arizona Academic Team. Each Arizona community college is allowed to select two students from each campus/center location, which means up to 18 Northland Pioneer College students can receive this scholarship!
Students who complete their first two years of a bachelor's degree at NPC have already saved more than $18,000 in just tuition alone, and this scholarship provides them with a tuition waiver (FREE tuition!) for up to 60 credits to complete their bachelor's degree at ASU, NAU or UofA. That's a smart start and finish. It can mean earning a four-year degree with little or no debt!   
To apply, students must be entering the final semester of completing an associate degree, have a cumulative GPA of 3.5 or higher and demonstrate leadership and/or volunteerism within the college or community. The student must also have taken a class at, or originating from, a specific NPC location to be considered as one of the two nominees.
This year, Northland Pioneer College selected 13 outstanding students to receive All-Arizona Academic Team scholarships: Talaina Fisher and Jayden Gubler representing the Holbrook campus; Kimberly Baber and Barbara Hawkins representing the Winslow campus; Gavin McInelly and Teresa Wise representing the Show Low campus; Edgar Acosta and Valon Standerfer representing the Snowflake/Taylor campus; Juliet Moreno and Amber Shepard representing the Saint Johns Center; Nicole Krouse and Sydney Miller representing the Springerville/Eagar Center; and Lauren Burson representing the Whiteriver Center. Team members will also receive scholarships from NPC and are automatically considered for additional All-USA Academic Team scholarships.
The Board of Regents awards the tuition waivers to encourage the state's top community college scholars to finish their bachelor's degree. Studies show that students who start their education at a community college and then transfer to a four-year institution often perform better than those who go directly to a four-year university.
This year's NPC nominees were honored at a luncheon on March 9 in Mesa, along with 63 other top scholars from the state's community colleges. Read more about this year's winners at www.npc.edu/2017-all-az. For more information about NPC's five guaranteed transfer degrees, go to our website at:                                      
– Everett Robinson
Last 12 Degree Credits Free
Students nearing the completion of their associate's degree often need a little financial help getting over the finish line. That's why NPC offers students the Finish Line Scholarship. To be eligible, students must be within the last 12 credits of obtaining their associate degree* at NPC, complete the financial aid process including the FAFSA, possess a high school diploma/GED and be eligible for in-state tuition. To learn if you are eligible for this scholarship, meet with an NPC academic adviser. We want to make sure YOU make it over the finish line!