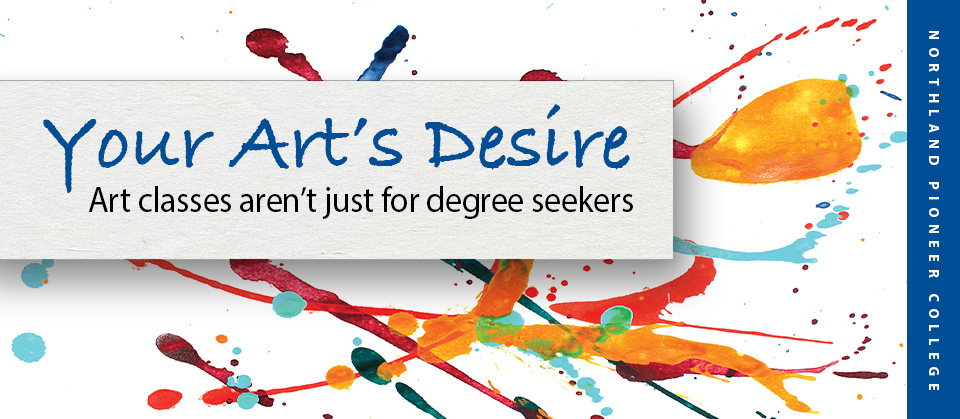 Art classes aren't just for degree seekers
Artistic expression takes many forms, each honed through practice and guided by a mentor who has been where you are today. That's why Northland Pioneer College art classes are open to all, regardless of age or experience.* Studio art courses are geared specifically to guide students in preparing a portfolio of their work.
NPC offers many options for your creative outlet. You can explore your talent in drawing, print-making, painting, watercolor or Native American art. There are many classes focused on ceramics, offered as both credit and noncredit, such as Raku, hand building and sculpting that are mainly offered at the Show Low campus. Fiber art, quilting and crafts classes such as digital scrapbooking and digital photography are frequently offered through the noncredit Community Education department. Metal Arts, offered in conjunction with the Welding department, utilize a stand-alone facility in the Show Low Industrial Park (see Armour story, Pg. 8).
Full-time instructors Magda Gluszek and Peterson Yazzie and numerous adjunct instructors mentor students in the creative process. In addition, visiting artists from around the country have displayed works in NPC's Talon Gallery and provided lectures and hands-on demonstrations to students. "I think this is a significant aspect of the NPC art program, educating students about professional practices in the art world," explained Gluszek.
NPC's Peterson Yazzie is a contemporary Diné artist who creates Yei wall sculptures and paintings depicting his heritage. He also illustrated the children's book The Hogan that Great-Grandfather Built, written by Nancy Bo Flood. As well as teaching at the Holbrook campus, Yazzie coordinates the silent auction, in conjunction with the annual NPC Student Art Show in May, raising funds for student scholarships.
Local artist groups and the Fine Arts department offer several scholarships to allow students to continue their art studies. "With my art scholarship I have been able to explore different mediums and make new discoveries with my artwork," noted Jessica Lambert, a second-year student and recipient of an NPC Visual Arts Scholarship in the spring '15 semester.
"I have always preferred to draw but decided to try watercolor painting and found that I really enjoy it. Now, I am exploring mixed media and look forward to experimenting with as many different techniques and mediums as I can," Lambert added.
Another scholarship opportunity for students interested in creating artwork is the Martia A. Smith Memorial Scholarship. This merit-based, full- tuition scholarship is awarded each spring to a highly motivated, academic and artistically talented student. Martia A. Smith was an artist and scholar who shared her knowledge as an NPC instructor and was a major contributor to the art program.
NPC students and instructors are also actively involved in their communities. Artwork created in Gluszek's "Build It Big" workshop is now featured on pedestals lining White Mountain Blvd. in Lakeside (www.art.pinetoplakesidelibrary.org).
"I work with the Artist-in-Residence director at the Petrified Forest National Park to bring artist presentations to our campuses," said Gluszek. Photographer Gary Cawood spoke with students at the Show Low campus in September 2014. This fall, artist Lisa McShane visited NPC campuses for presentations on her painting techniques, and selections from the park's permanent art collection were displayed in NPC's Talon Gallery.
The art gallery is located in the Aspen Center on the Show Low campus. Open to the general public, the space annually highlights the work of local artists, high school and NPC students in juried exhibitions, plus shows by visiting artists. The gallery is open Monday through Thursday, 7:30 a.m. to 7:30 p.m., and Fridays, 7:30 a.m. to 4:00 p.m.; it is closed on weekends and NPC holidays.
Art begins with inspiration. NPC art instructors and classes strive to encourage and motivate students to be creative and explore many different art forms. You might even find your art's desire.
– Everett Robinson
Learn more:
* Recommend taking a basic design/drawing class before studio classes.