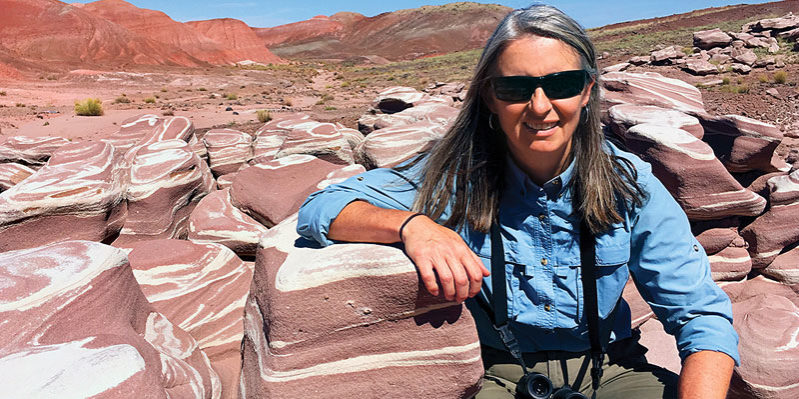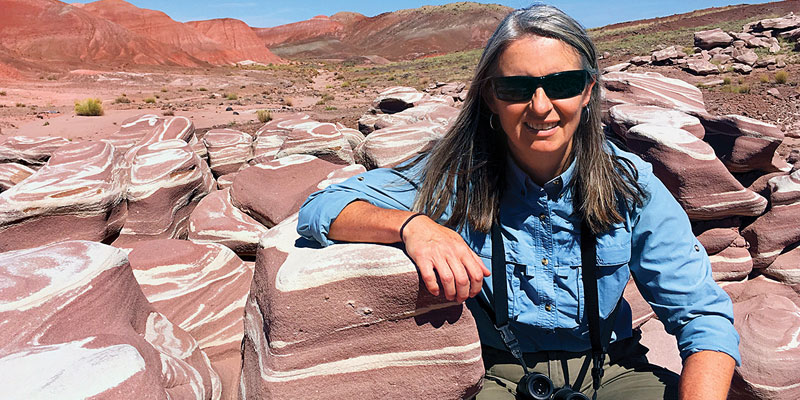 Students at Northland Pioneer College gain added learning benefits from instructors who bring valuable experience into their classrooms. Psychology, Computer Information Systems and Biology are noteworthy examples. Biology instructor Patricia Lopez worked in wildlife conservation and management at Arizona Game and Fish for 10 years, and while on sabbatical last fall, she contributed to the scientific knowledge base at Petrified Forest National Park while working on projects ranging from prehistoric animals to prairie dogs. Her experiences enrich her students' education in the classroom.
Lopez, who earned a master's degree in wildlife and fisheries science from the University of Arizona, is in her eighth year of full-time teaching at NPC. During her sabbatical, she sought to learn as much as possible about Petrified Forest National Park while contributing to the scientific work underway there. She and others engaged in an extensive "bio-blitz," taking a detailed inventory of the park's plant and animal biodiversity.
Northeastern Arizona's rich fossil history provides biology faculty Lopez and David Smith and geology faculty Amelinda Webb great opportunities to educate their students on extinct life forms. In the late Triassic period, aetosaurs were fairly common in the Petrified Forest National Park area, and Lopez teaches her students about these herbivorous creatures, who had small heads, upturned snouts and a body covered by plate-like scales overlaid with a horn. 
Aetosaurs are long gone, but Lopez and park staff and volunteers worked to protect living species, through the Gunnison Prairie Dog Project. Prairie dog numbers in the Petrified Forest were dramatically reduced by plague, and the ultimate goal is to increase and stabilize populations in order to be able to reintroduce native black-footed ferrets, whose main food source is prairie dogs. To save the prairie dogs and ultimately the ferrets, they placed pellets containing an oral vaccine into prairie dog burrows. 
"It's safer and more effective than any other method and avoids stressing out the animals," says Lopez. "We placed wildlife cameras at the entrances to several burrows to verify that prairie dogs, as opposed to non-target species, were in fact consuming the baited vaccines." 
Lopez's sabbatical was not a cushy 9-to-5 job. Temperatures in the field ranged from bone-chilling cold to triple-digit heat. One evening while driving the park roads to do amphibian and reptile surveys, she and her colleagues spotted a rattlesnake on the road. "After stopping and examining it from a safe distance to assess its size and confirm the species, I used special snake handling hooks to safely move the animal off the road. Handling snakes with these special tools does not harm the animal, and removing it from the road reduces the chance that it will get run over by a vehicle." She did pick up another harmless snake, a rarely seen milk snake.
One of Lopez's most memorable activities came when Park Superintendent Brad Traver led a small group on a tour of the park's back country, which is not accessible to the general public without special arrangements. "We saw many breathtaking things that day — beautiful vistas, virtually untouched petrified wood deposits, fossil clam beds, petroglyphs and an unusual sandstone formation consisting of light- and dark-swirled rocks in an area that's been dubbed 'ice cream rocks'" (see photo). Lopez's photos of this unique park make great visual aids for her biology students.
"My sabbatical was truly a once-in-a-career opportunity. Petrified Forest National Park is like an open textbook for our students, with its rich mix of paleontological, ecological and archeological resources. The experience gave me an up-to-date glimpse into the world of resource management and what that looks like at a national park. It was also an opportunity to contribute my skills, knowledge and experience to the park. The educational mission of the park overlaps nicely with what we do here at the college," says Lopez, who brings the amazing knowledge and experiences of the sabba-tical to life in her classes.
NPC has a policy that allows faculty to take time from teaching to enhance their knowledge and ultimately what they bring to the classroom. Lopez says she is thankful to NPC for allowing her the opportunity to spend a semester in the national park. Her students are now reaping the benefits. For more information see:
www.npc.edu/sciences