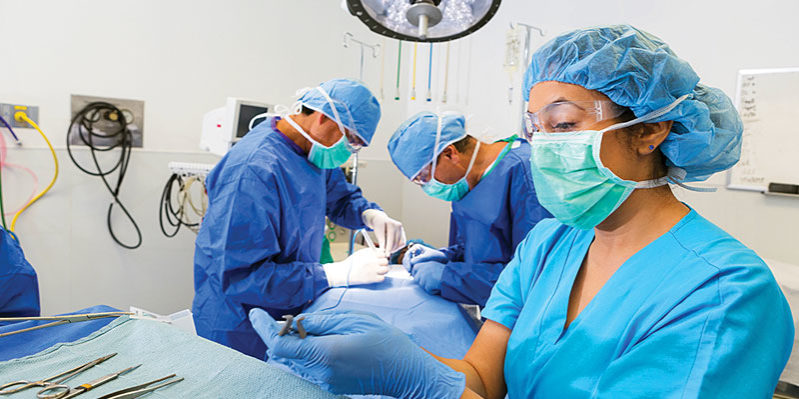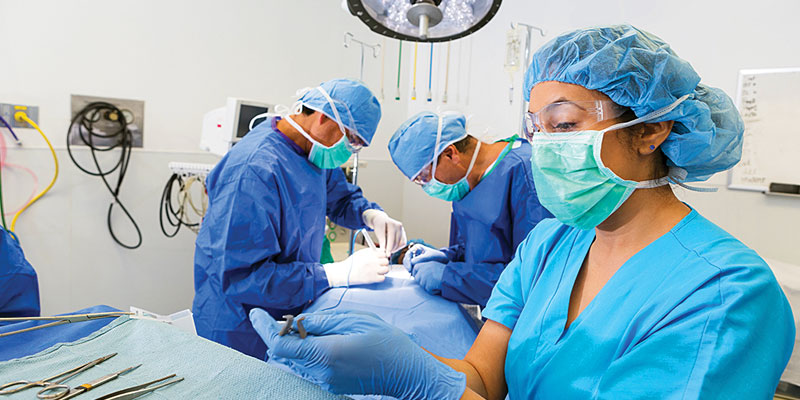 Responding to requests from regional healthcare partners, Northland Pioneer College will  become the third community college in Arizona offering an associate's degree in Surgical Technology. 
The demand for certified surgical technologists is high, locally and nationally, and by 2021 this occupation will require an associate degree, which will be offered by NPC. The U.S. Bureau of Labor Statistics reports the median annual salary in Arizona for surgical technicians is $50,610. 
Surgical technologists, also called operating room technicians, are expected to think and react to situations quickly and effectively. They often work with the latest surgical equipment such as fiber optics, laser technology and robotics! They serve alongside physicians, surgeons, registered nurses and other health-care workers by preparing operating rooms for surgery, maintaining a sterile environment, ensuring there are adequate supplies for surgery, preparing patients for surgery, helping surgeons during surgery by passing them instruments and performing other crucially important tasks.
Once the operation is complete, surgical technologists may apply bandages and other dressings to the incision site. They may also help transfer patients to recovery rooms and restock operating rooms.
Work settings for graduates of the NPC surgical technologist program may include hospitals, surgical centers or other outpatient settings. Graduates may also work in the surgical equipment industry and veterinary services. 
Students must be admitted to the Surgical Technology program to enroll in surgical technology courses. Prior to admission, students must successfully complete 22 credits of science and English courses. 
The program will initially be offered at the White Mountain Campus in Show Low. Summit Healthcare is highly supportive of the new program and will offer opportunities for students to complete extensive clinical practicums at its Show Low hospital each year. Students may need to travel to gain valuable clinical experience at the Little Colorado Medical Center in Winslow or the Flagstaff Medical Center. 
Debra McGinty, Dean of Nursing at NPC, says, "This program will offer excellent career opportunities. The salary for surgical technologists is a great reward for the educational investment. Plus, surgical technologists are in high demand." 
Summit Hospital's new outpatient surgical center in Show Low will increase the demand for surgical technologists locally.
In addition to classroom instruction, students will complete a clinical practicum of 760 hours, scrubbing in on as many as 120 cases in the final two semesters of the program. 
"Our new Surgical Technology program will be a great opportunity for students, for local employers, and for our communities," Dean McGinty says.
For more information on this outstanding new program offering, contact an NPC adviser.
www.npc.edu/surgical-technology
NPC Also Brings Back Therapeutic Massage
In response to a vibrant interest in alternative medi-cine in northeastern Arizona, NPC is restoring the Therapeutic Massage program. Students will have the options of obtaining an Associate of Applied Science (AAS) degree, a Certificate of Applied Science (CAS) or a Certificate of Proficiency (CP).
Students earning the AAS degree will be prepared to provide personal care services for stress reduction, relaxation and preventative wellness techniques. They will qualify for work in clinical settings with other health- care professionals, medical doctors, chiropractors, nurse practitioners, full-service salons and day spas, health resorts, cruise ships, sports medicine clinics, gyms, hospitals and other health care offices. They may also start their own private practice.
For more information about either program, contact an NPC academic adviser.