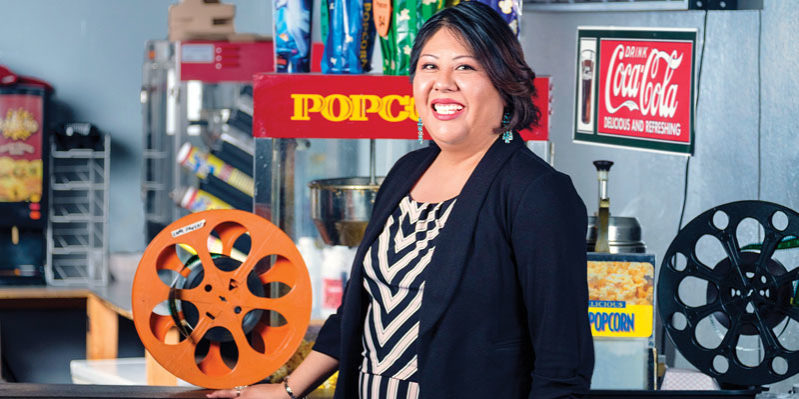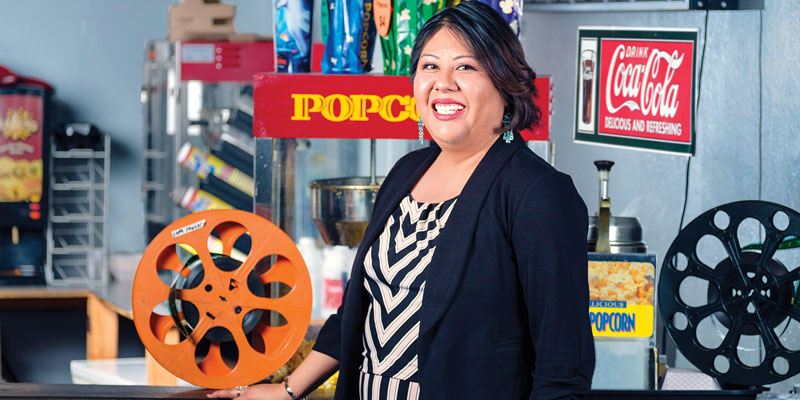 Two NPC Film and Digital Video (FDV) students made major contributions to a popular new community arts event in Winslow last January. Thanks in large part to their efforts, the 2019 Winslow Cinema Festival drew more than 300 attendees in its debut! NPC student Larrilynn Oso created and co-chaired the festival's organizing committee along with Roberta Cano, the Community Service Coordinator for the City of Winslow. Oso also served as producer for a promotional documentary film created by NPC Film & Digital Video students Jackson Kittrell and Anthony Marrietta.
Oso says the Winslow Theater is a special place in the community, and it deserved to have its story told. "The film is really well done, and everything I was looking for in the storytelling aspect of the project found a way into the scenes and dialogue. The experience I had in creat-ing, planning and seeing my dream of a film festival become a reality was only further enhanced by building working relationships with local business owners, the City of Winslow, festival volunteers and the FDV students."
Community reactions to the festival and the student film were emotional, enthusiastic and drew praise from Mayor Tom McCauley. The popularity of the festival led Oso to also create the Winslow Cinema Society, which will show classic and impactful films throughout the year. Marrietta (left, top) and Kittrell (left, bottom) spent six days shooting the scenes and another two weeks in editing the film "#SupportYour-LocalTheater." (You can see the film at www.npc.edu/film-digital-video.) Kittrell said Marrietta did a wonderful job on the cinematography and editing for the film, which begins with a nostalgic look back at yesteryear in Winslow and concludes with interviews of the owners of the Winslow Theater, Debbie and Tommy Martinez, and local residents. Marrietta, a FDV major from Holbrook, has previously assisted in video production for the NPC play "Machinal." He interned in the Gila River Indian Community's media department, where he hopes to work full-time after graduating from NPC this spring. Marrietta says, "NPC provided me with a great education at an affordable cos
Kittrell provided vision for the film, set up work and interview schedules and collaborated with Oso and Marrietta on the conceptualization of the content. He began acting in and directing theatre at Blue Ridge High School, which earned him an NPC Performing Arts Scholarship. At NPC, he has played the role of Henry Higgins in "My Fair Lady" and acted in "The Government Inspector." He acted in and produced a video shown in the presentation of "9 to 5." Kittrell says, "Film is my number one love in this world, and the fact that NPC had a program for it was beyond enticing." Upon completing his studies at NPC this spring, Kittrell plans to move to New York City to pursue a career as an actor, screenwriter and director. 
All three students said they enjoyed collaborating as a team on the Winslow Theater project and appreciated the support of their instructor, Mark Ford. They said he offered excellent creative input, encouragement and the freedom to test their ideas. Oso said Ford has been an extraordinary influence on her creativity skills and very supportive of her endeavors in and out of  the classroom. 
For Oso, the film festival was the capstone of several years of working toward her associate degree at NPC. This fall, she will transfer to Northern Arizona University to pursue a bachelor's degree in psychology. She says NPC instructors "have been a blessing in my life by giving me so many different perspectives and the foundation for a successful transition to the next chapter of my life. They've done more good for me than they may ever know."