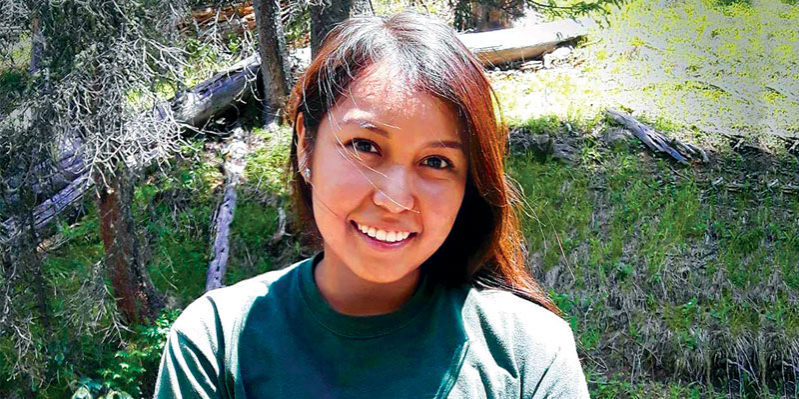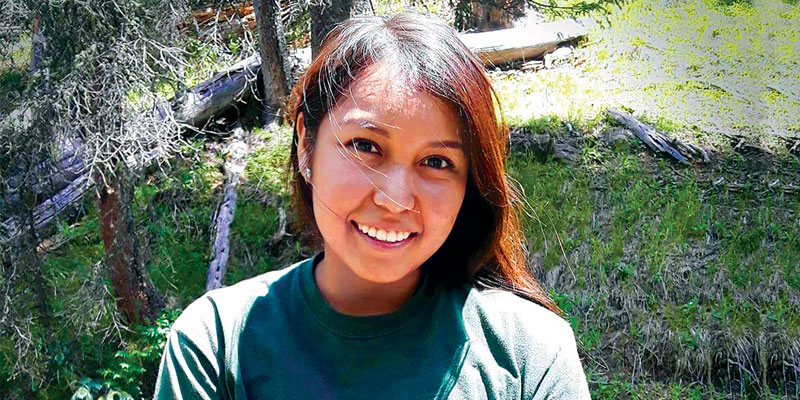 NPC graduate Majerle (MAR-lee) Lupe can tell fish stories with the best of them. This summer, she interned with Arizona Fish and Wildlife Conservation to help expand the range of the once-endangered Apache Trout, Arizona's state fish. 
One of only two species of trout native to Arizona, by 1960, the Apache's range had decreased from 600 miles of White Mountains streams to just 30 miles. That disappearing act made it one of the first fish declared "endangered" in the United States, in 1973. Thanks to the successful preservation efforts of a tribal, state and federal coalition, the Apache Trout is now found in 28 locations occupying 170 miles of stream. The resurging Apache's status has been upgraded to "threatened," and limited fishing is now permitted. Nevertheless, work continues on improving the population of Apache Trout.
Working out of the Alchesay National Fish Hatchery, near Whiteriver, Lupe and the Apache Trout Crew improved habitat for expansion of the Apache Trout's range and reduced competition from the rival Brown and Brook Trout. "I joined the team during the latter part of the Apache's spawning season, which ends in June. We used electrofishing gear to shock the water and stun the fish," Lupe explains. "When we picked up the fish, we recorded their weight and length; they can reach up to 24 inches in length and weigh up to six pounds. We released the Apache Trout back into the water, but we removed the Brown and Brook Trout to give the Apache Trout enough food, resources and a stable habitat to live in." 
"The people I worked with were amazing," Lupe continues. "I learned so much from them, ranging from personal advice to academic encouragement. I learned about all the opportunities that are out there. We had people from Georgia, Florida, Texas, Tucson, Flagstaff and Phoenix, so another thing I learned was their cultures and lifestyles."
Zac Jackson, project coordinator and supervisory fish biologist for Arizona Fish and Wildlife Conservation, said it was clear that Lupe's solid foundation in science at NPC prepared her well for her work. "During her internship, Majerle received an introduction to various fish sampling techniques, endangered species management and conservation biology approaches. She can build on this with further focused study at a university and more fieldwork," he said.
A first-generation college student, Lupe is now double majoring in law and natural resources at the University of Arizona. She wants to use her education to help her fellow Apache Tribe members. "I love my reservation and its perpetual beauty. My education will enable me to protect, enhance and stabilize my reservation, as well as the wildlife. It is definitely going to take some time, but I am tenacious about making it happen."
Following her bachelor's degree studies, Lupe plans to pursue graduate studies. "I witnessed the hardships of not having an education and saw how tough it is," she says. "With that being said, my plan is to go as far as I can."
Lupe grew up in Whiteriver and is named after her father's favorite basketball player — Dan Majerle, a
former Phoenix Suns' star. She graduated from Alchesay High School and then earned an associate of arts degree at NPC.
"I chose to start at NPC because obviously it is affordable and closer to home," Lupe recalls. "This was by far
the smartest decision I made because I received the same quality education in my first two years of a bachelor's degree as I would at university, and I did it debt-free. NPC saw my potential and motivated me to continue onto the next level. I loved it there. The instructors were amazing and so helpful." 
Originally, Lupe had no desire to study the sciences, but NPC instructor Patricia Lopez sparked her interest
in biology and "made it fun and intriguing. My biology and geology classes played a crucial role in preparing me for the work I did in my summer internship. My geology class taught me how to collect data by sampling rocks and figuring out their ages, and my biology class taught me everything that is needed for the type of work I did. My adviser at the NPC Whiteriver Center, April Horne, was also helpful. She gave me encouraging advice on how to find ways to pay for my education at the U of A and to continue my academic journey."