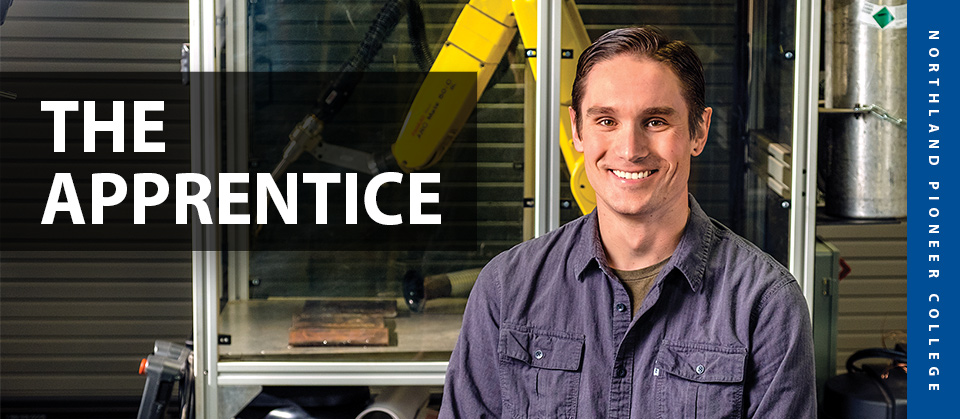 Jonathan (Charlie) Hall knew that Northland Pioneer College would be there to help him earn his degree, but since he has started his apprenticeship (paid, on-the-job training) with Nestle Purina, Hall has been grateful for NPC's customized support in this new stage of his career.
"First, I want to say that if I wasn't going to NPC, I would have never heard of the position open at Purina, and it was with NPC's help that I was able to land my apprenticeship." Hall, an NPC Mechatronics student, explains that before deciding to pursuing his associate degree, he "bounced around between jobs and never found a career that would keep my interest." But through the program's hands-on learning at NPC's Skills Center and presentations about the importance of manufacturing in Arizona, Hall says that he knew that computer-integrated
manufacturing was the career for him and that he was definitely pursuing the right degree to help him get there.
NPC's Mechatronics program covers blueprint reading, CAD, mechanics, pneumatics, hydraulics, electricity, motors and motor control, programmable logic controls, robotics and motion control, process control and instrumentation – all skills used in today's modern manufacturing facilities throughout the United States.
Hall emphasizes that NPC's support has not only been helpful with his apprenticeship but has also been critical to helping him become the employee he wants to be. "As I'm working at Purina, I'm able to identify the gaps in my knowledge that keep me from knowing what is expected of me," says Hall. "And a lot of the equipment they have there, I have access to here at NPC. So when I don't understand something at work, I can go back to the classroom, practice and learn."
Hall also credits Mechatronics instructor Charlie Perkins in helping him tackle work-related problems. "Charlie is always willing to help," says Hall. "Even when
my questions are very work-specific, Charlie will take the time to address them. He usually says something like, 'Well, there's a couple of ways to figure this out, but let's find out the answer together,' which then helps me learn even more about my question and the possible solutions to my problem."
Hall expresses his appreciation for NPC and the Mechatronics program and for the support he's received through the entire apprenticeship process, from helping him refine his résumé to bringing relevant, work-related knowledge to his job. "Going into my apprenticeship with this type of experience has been invaluable. Just being able to go to work and already have a sense of familiarity with what you're introduced to has definitely helped me and I think would help anyone going into manufacturing. I would highly recommend an apprenticeship to other NPC students as a way of getting real-world job experience and getting your foot in the door with employers. NPC has certainly helped me jump-start my career!"
– Michael Nilsson